Accommodations at the patio ranch
Welcome To Our Home
Nestled in the heart of the Texas Hill Country, this beautiful hunting lodge is unlike any other. The main house, built during the Great Depression, once served as a destination resort for then owner, General Eddie Rickenbacher, a World War II Ace and President of Eastern Airlines, as a for his friends to relax, hunt, play cards, and escape the pressures of daily corporate life.
Today, this beautiful Texas hunting lodge hosts hunters from all over the world. Youth hunters, first-time hunters and seasoned hunters alike gather together to pass on the hunting tradition. When hunting exotic game animals in Texas, there is nothing like The Patio Ranch. And, when shared with good friends, a hunt at The Patio Ranch yields more than the thrill of the chase. It's a different kind of hunting story that will stay with you for the rest of your life. Reserve your story today—we look forward to seeing you soon!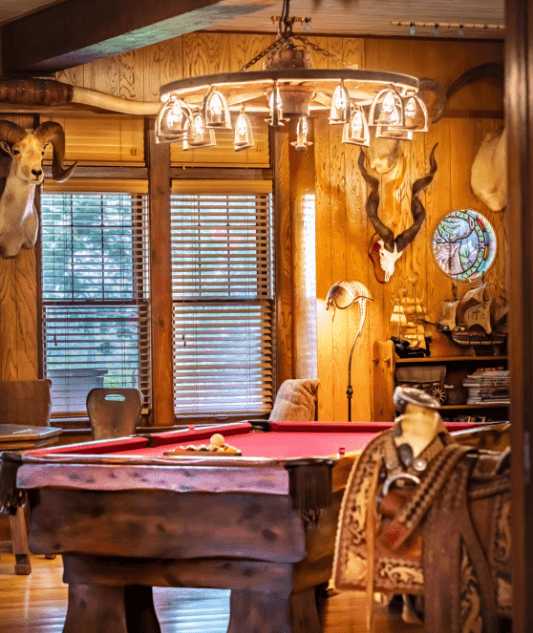 The Patio Ranch Main Lodge
The historic main lodge, built during the Great Depression, is a beautiful two-story rock home with a sprawling fenced-in yard. The majority of the furniture on the main floor was hand-selected by Dick and Gertrude Friedrich, the original owners of the ranch. Here you can find a spacious living room decorated by mounts of animals representative of the various species found on the ranch. A pool table, Nickelodeon, a bar with saddles for bar stools, gorgeous chandeliers, and unique light fixtures are some of the unique accents on display in the den. The spacious kitchen was at one time an enormous walk-in cooler, while the dining room offers a special place to wind down, share stories, and enjoy 5-star meals created by our chef after productive days of traversing the property.
Upstairs you will find four bedrooms with plenty of space for up to 10 people to rest comfortably. All but the historic master bedroom have been updated with new bathrooms and bed sets for ease of use. The ping-pong table, board games, and books that adorn the common area provide a fun way to pass time with family and friends. The master bedroom features stained glass windows, a king-sized bed, and a one-of-a-kind bathroom with the original tile, sink, and bathtub.
Hunter's House
Originally built by Eddie Rickenbacker to house his hunting clients, the hunter's cabin has been recently renovated to better serve our guests. Inside you will find a living room, fully equipped kitchen, and two bedrooms. One bedroom has a king-sized bed, while the other has two comfortable double beds, and each have their own personal full bathroom. The living room has a large dining room table as well as a rock fireplace where you can sit after a long day to share comradery. There is also a private back patio that offers a gorgeous view of animals coming in at sunset, which is a great place to unwind and enjoy a peaceful evening.